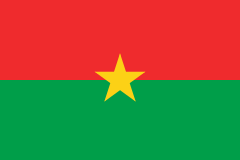 Visa and entry requirements Burkina Faso:
Passport required
German citizens need a visa to enter Burkina Faso. This must be applied for before departure at the Embassy of Burkina Faso.
Visa costs: 70, - / 90, - Euro
Information from the Foreign Office on her Burkina Faso trip:
https://www.auswaertiges-amt.de/de/burkinafasosicherheit/212336
Burkina Faso is a landlocked country in West Africa with about 19,5 million inhabitants. The country borders Mali to the north and northwest, Niger to the east, Benin and Togo to the southeast, and Ghana and Ivory Coast to the south. The state is characterized by different savannah landscapes, in the north it lies on the Sahara desert. The official language of the country is French and the national currency is the CFA franc BCEAO, while 1, - Euro corresponds to 655, - XOF.
Burkina Faso is one of the poorest and least developed countries in the world, but today it is relatively stable and offers a cultural diversity. The country has a tropical climate with monsoon rains and trade winds. In the large savannah live typical African mammals, such as hippos, elephants, antelopes, monkeys, leopards, crocodiles and gazelles.
In Burkina Faso there are four national parks that are also protected areas, where endangered species are protected from hunting.
The majority of Burkina Faso's population, around 62%, are Muslims, and 23% is still committed to Christianity and other Protestant faiths.
Burkina Faso's largest cities include Ouagadougou, Bobo-Dioulasso, Koudougou, Banfora, Ouahigouya, Kaya and Tenkodogo.
The country's main export products include peanuts and cotton. The economy of Burkina Faso is significantly dependent on the export of cotton, which accounts for more than 55% of exports. Other important sources of revenue are the mining of gold and manganese. Due to the huge gold deposits and the price decline of cotton, the gold export is becoming increasingly important.
The capital of Burkina Faso is Ouagadougou with about 1,4 million inhabitants. It is also the largest city and economic, administrative and cultural center of the country. Ouagadougou is located in the center of the country on the central plateau. The city's main attractions include the Presidential Palace, the Central Bank of the West African Central Bank, the Grand Mosque, the Municipal Building, the Martyr Monument, the National Monument, the Ouagadougou Cathedral, the Episcopal Church, the National Stadium, the National Museum, the Music Museum, the theater, the Marche Rood-Woko - one of the largest markets in West Africa, the Maison du Peuple, the CENASA and the French Cultural Center.
In August 2017, I toured Ouagadougou for a day after missing my flight to Burkina Faso a year earlier due to a flight delay. Burkina Faso was a stopover during my trip to Central Africa from Niger and later on to Cameroon.
The capital is a typical African city with a lot of excitement and a huge market activity. Even the few paved roads are brownish, so you often can not tell the difference to normal dirt roads.
One day after I visited the city, alleged Islamists in the center of Ouagadougou in a popular restaurant made a stop in which 20 people were killed.