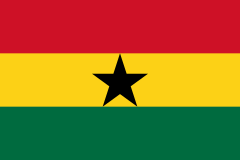 Visa and entry requirements Ghana:
Passport required
German citizens are subject to the visa requirement; for all purposes of residence is the Embassy of the Republic of Ghana in Berlin responsible.
Visa cost: 110, - Euro
Information from the Foreign Office on her Ghana trip:
https://www.auswaertiges-amt.de/de/ghanasicherheit/203372
Ghana is a state on the Atlantic in West Africa with about 29 million inhabitants. The country is bordered to the west by the Ivory Coast, to the north by Burkina Faso, to the east by Togo and the Gulf of Guinea to the south. The official language is English and the national currency is Ghanaian Cedi, where 1, - Euro is 55, - GHC.
Ghana's mainland is largely flat and consists mainly of tropical rainforest and wetland, grass and coastal savanna. The highest elevation of the country is Mount Afadjato with 885 meters. There is a continuous tropical climate, only with the change between rainy and dry season. The largest inland lake in the country and the largest artificial artificial body of water in the world is the Volta Reservoir. The wildlife of Ghana is very diverse, such as parrots, antelopes, leopards, elephants, hippos, buffaloes, warthogs, chimpanzees, monkeys, baboons, iguanas, monitor lizards, crocodiles, snakes, lizards and eagles. Off the Atlantic coast are some of the richest areas of the world's richest fish, including lobsters, lobsters, tunas, clams, snails, crabs, barracudas and sharks.
Ghana is very important to the world economy due to its abundance of raw materials. The country's most important export is gold, which has given the country the name "Gold Coast". The state earns about 37% of its export revenue from gold mining. Other minerals are oil, natural gas, diamonds, bauxite, manganese and limestone. Additional important agricultural exports include cocoa, sugarcane, coffee, tea and rubber. After the Ivory Coast, Ghana is the second largest producer of cocoa, employing one million cocoa farmers and three million harvest workers. The country is the third largest supplier of hardwood and other wood products in Africa, including 23 exotic species such as mahogany.
Tourism is becoming increasingly important as the economic future of Ghana. The tourist attractions are the beaches on the Atlantic coast, wildlife reserves and nature parks.
Ghana's largest cities include Accra, Kumasi, Tamale, Tema, Takoradi, Ashaiman, Teshie, Cape Coast, Sekondi and Obuasi.
The capital and largest city of Ghana is Accra with about 2,6 million inhabitants. Accra is the administrative, economic and cultural center of the country. The city's main attractions include Makola Market, Independence Arch, Accra's Black Star Gate, National Museum, Memorial Park, James Town Lighthouse, Cathedral Church of the Most Holy Trinity, Osu Castle Independence Square, the Accra Central Mosque, the Presbyterian Church, the Supreme Court, the Slave Museum, Bojo Beach, Dr. Ing. Kwame Mausoleum and the Botanical Garden.
In July 2016 I traveled to Ghana coming from Gambia during my West Africa trip. The city of Accra is very modern, which one part of the wealth of Ghana looks at, but otherwise is a typical African city. The people there are very friendly and helpful and you immediately notice the higher education compared to almost all African countries. After a day's stay I went to Freetown in Sierra Leone in the evening.