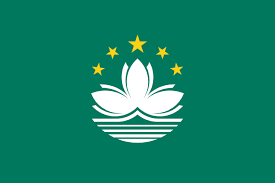 Visa and entry requirements Macao:
Passport required
German nationals will be issued a visa valid for 90 days upon arrival at the airport or at the ferry dock in Macau.
Information from the Foreign Office on your Macau trip:
https://www.auswaertiges-amt.de/de/macausicherheit/200872
Macau, also called Macao, is a Chinese special administrative zone with about 800.000 inhabitants. Macao is bordered to the west and north by China, around 50 kilometers east to Hong Kong and south to the South China Sea.
The two official languages ​​of Macao are Portuguese and Chinese, as a means of payment, the Macau Pataca is used, it corresponds to 1, - Euro about 9, - MOP.
The territory of Macao consists of the islands of Taipa and Coloane, which are now connected by landfills, and the Macau Peninsula, which is connected to the mainland of China. The population of the country is predominantly committed to Buddhism.
The most important source of income in Macao's economy is gambling. As a result, 30 attracts millions of visitors every year and provides the country's second source of income. The many casinos and the huge rush of visitors make Macau the fourth richest country in the world.
Macau has many historic colonial buildings and countless attractions. Macau's major attractions include the 338 high Macau Tower, Casino Lisboa, Penha Church, Venetian Macao Resort and Casino, the Grand Prix Museum, the façade ruin of St. Paul's, the funicular and water features in front of the Wynn Palace Hotel , the historic Mandarin House, Macau Zoo, Old Town, Guia Lighthouse, MGM Casino, Macau Museum, Guia Fort, Monte Forte, Government House, Science Museum, St. Francis Xavier Church, Senado Square, St. Dominic's Church, Sands Macau Casino, St. Lawrence Church, Galaxy Resort, and Cotai Strip, Macau's main street.
In January 2016 I visited the only time Macau for two days. From Shanghai I flew with Air Macau directly into the player's paradise. The architecture of Macau, with its colonial buildings and numerous modern buildings, was very impressive. The city was super easy to explore and not as crowded as Hong Kong for example, with most of the visitors probably always in the casinos.
With pleasant mild temperateurs, I had an exciting and interesting day there. Unfortunately, I could not pursue my passion for blackjack because the casinos were mostly Chinese or Portuguese.
Macau, with its many varied facilities and attractions, is certainly suitable for a longer stay. Macau has an approximately 50-minute ferry service to Hong Kong International Airport.