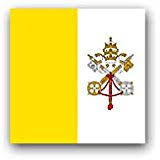 Visa and entry requirements Vatican City:
Passport not required
No visa is required
Information from the Foreign Office on her Vatican City trip:
http://www.auswaertiges-amt.de/DE/Laenderinformationen/00-SiHi/ItalienSicherheit.html?nn=332636?nnm=332636
The state of Vatican City, also called the Vatican or Vatican, is the smallest universally recognized state in the world and the last state with the official official language Latin. The city-state is an enclave in Italy, within the urban area of ​​Rome. It has an area of ​​0,44 square kilometers and, with around 900 inhabitants, is also the state with the fewest inhabitants worldwide.
Vatican City territory includes St. Peter's Basilica, St. Peter's Square, the Vatican Museums, the Sistine Chapel, and the palaces and gardens within the Vatican walls. In the Vatican City there are a total of 100 fountains, the most famous of which is the historic Galley Fountain.
The Vatican is an electoral monarchy and is led by the pope, the monarch. This monarch is chosen exclusively by the cardinals and can only retire from office by death or resignation. The Vatican City State is represented at the international level by the Holy See.
The miniature state is located in Rome on the west side of the river Tiber. The highest point in the country is the Vatican Hill, which is in some places surrounded by the city walls.
The Vatican Gardens, however, make up most of the Vatican territory.
The citizenship of the Vatican State is awarded only for a limited period of time, every other second citizenship is preserved. This citizenship is constantly tied to a specific function in the state, so all diplomats of the Holy See and Cardinals working in the Vatican have one. The Vatican City has the highest proportion of Catholics worldwide with 100%.
The Pope is the head of state of the Vatican and has unrestricted power over the Basic Law, making the Vatican City the last absolute monarchy in Europe.
The economy of the Vatican lives mainly from the income of business within the territory, including several petrol stations, a supermarket, various souvenir stalls, the pharmacy, a boutique, a pizzeria, two cafes, a self-service restaurant and rental income of his 2.500 real estate outside the Vatican State. Additional revenues are achieved through donations and entrance fees, while the Vatican receives annual donations of almost 100 million euros. In addition, the state has valuable art treasures, significant gold reserves and expensive real estate.
The official currency of the country is the euro, although the Vatican does not belong to the European Union. Public advertising is prohibited throughout the country and there is no sales tax.
Many years ago I visited the Vatican during my city trip to Rome. I was very surprised by the size of St. Peter's Square and St. Peter's Basilica. St. Peter's Basilica looks much bigger from the inside than it actually is. In any case, the visit of Vatican City is a unique experience.
After I have completely looked at the Vatican in a few hours, it went back to contemplative Rome.