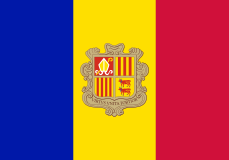 Visa and entry requirements Andorra:
Passport not required
Nationals from EU member states do not need a visa to enter Andorra.
Information from the Foreign Office on their Andora trip:
http://www.auswaertiges-amt.de/sid_D246FB671F0AE253A2D2C2851C171E5A/DE/Laenderinformationen/00-SiHi/AndorraSicherheit.html?nn=332636?nnm=332636
I was very excited about the small dwarf state in the Pyrenees between southern France and northern Spain. 2015 arrived in the capital Andorra la Vella from Barcelona in the summer with a super modern coach. The bus trip cost about 35, - Euro round trip and lasted about 3 hours.
But the trip there is due to the beautiful landscape super exciting and perfect for photos. The mountains of the Pyrenees are soon more beautiful than the Alps.
Andorra la Vella is a very nice small town with only about 22.000 inhabitants and the highest capital of Europe with 1.000 meters, while in the whole country about 80.000 people live. The entire state and the capital are crossed by the 35 km long river Valira in the north-south direction and is wonderful as a photo opportunity. The main language is Catalan, where you really do not understand a word and make communication with local people almost impossible. Fortunately, at the front desk of my hotel spoke English, unfortunately, it was far and away the only one. Hotels are not cheap in the capital, but with some comfort to make the stay quite comfortable.
Major attractions in Andorra include the Casa de la Vall, Barri Antic, San Giuseppe de los Bons Church, Sant Serni de Llorts Church, Les Bons Historical Complex, Sant Miquel de La Mosquera Church, Placa Calonge, Casa Felipo , Sant Joan de Caselles, Santurio de Meritxell, Sant Esteve Church, Santa Coloma Church, Sant Christofol Church, Puente de Madrid, Casa Rossell, Plaza del Poble, the Tristaina Lake Trail, the Tobacco Museum, the National Automobile Museum and the Miniature Museum.
Especially in winter, Andorra is very popular with skiers who can use a ski resort in 1.000 m. In addition, you can shop duty free in almost all the country and is therefore very popular with tourists as daily bus tours from Spain or France. Particularly inexpensive are tobacco and alcohol. As in the surrounding countries, it pays in euros.
This small state is definitely always worth a short or longer trip and very tourist friendly.