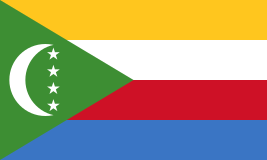 Visa and entry requirements Comoros:
Passport required
German citizens need a visa to enter Germany.
The issuance of a tourist visa upon arrival at the international airport is possible. This can be issued with a validity of up to 45 days on entry upon presentation of the return ticket.
Visa cost: 50, - Euro
Information from the Foreign Office on her Comoros trip:
https://www.auswaertiges-amt.de/de/komorensicherheit/226660
The Comoros is an island nation in the Indian Ocean with about 830.000 inhabitants. They are located in southeastern Africa between Mozambique and Madagascar. The island nation consists of the three main islands Grande Comore, Anjouan and Moheli and some small islands. The three official languages ​​of the Comoros are Comorian, Arabic and French, and the official currency is the Comorian Franc, where 1, - Euro is about 500, - KMF.
Moroni, Mutsamadu, Domoni, Fomboni and Tsembehou are among the largest cities in the country. The majority of the population of the archipelago is committed to the Muslim faith.
All the islands of the Comoros are of volcanic origin and therefore very mountainous. On the main island of Grande Comore lies the 2.361 meter high active volcano Karthala, which broke out for the last time 1977. In the Comoros, there is a tropical-maritime climate, with a dense tropical rainforest and very small temperature fluctuations. In the landscape are mainly bananas, coconut palms and mango trees, while the coasts are mostly covered with mangroves. On the archipelago are rare monkeys, turtles and birds.
The economy on the island nation is underdeveloped and limited to agriculture, fishing and forestry. The main exports of the Comoros are vanilla, cloves and ylang-ylang oil. In addition, manioc, pepper, cocoa, corn, yams, sweet potatoes, bananas, rice, sisal and coconut palms are cultivated for their own use.
The capital and at the same time largest city of the Comoros is Moroni with approximately 70.000 inhabitants. The city's main attractions include the Grand Mosque du Vendredi, the National Stadium, the Comoros Parliament, the University, the National Museum, the harbor, two Catholic churches and the Ahmed Mosque.
In March 2016 I traveled the Comoros for three days coming from the neighboring island of Mayotte. Immediately after arrival, you realize that the island has some problems to overcome because of its seclusion and low economic potential. Apart from a typical African market, Moroni really does not have much to admire. The port area and many parts of the capital are unfortunately quite neglected. Apart from the main square in the city center, with some relatively modern bank buildings, the other surrounding buildings are already very old. Luckily I found the only international restaurant in the city at this place.
Basically, the Comoros have a huge waste problem, as I have rarely experienced so far in this scale. My island tour on Grande Comore was quite exciting due to the many plantations, the lush rainforest and some decent beaches and it was a nice day trip.
For me it was then, after the somewhat disappointing stay, back with Kenya Airways to Nairobi.